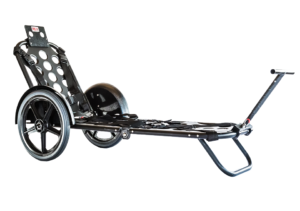 Product
REX EMS Rapid Extraction System
Problem
The Emergency Medical Service (EMS) needed a system that was compact and lightweight for the bicycle Advance Life Support (ALS) teams to transport patients where ambulances could not go.
Solution
Mark Jackson, founder of Blue Dolphin, and Marc Segal a Captain in Los Angeles City Fire Department derived an innovation solution. They started a company, patented the device and soon after sold their idea to REX EMS, Inc.   The REX patient transport system used conventional and CNC prototyping systems to create a fully functional prototype that was tested in real life situations. The new, lightweight patient transport device revolutionized the mobile medical industry and made it possible for one ALS team member to transport multiple patients. The REX EMS is fully collapsible and can be carried by one team member able to haul more than twenty times the base weight. In 2010, at the EMS World Expo, REX EMS's new patient transport system was awarded Innovation of the Year and can now be found in almost all EMS companies worldwide.
Need a quote? Let's start the process! Fill out the form below.

Product
Simple Drip©
Problem
RainDrip needed to have a new product developed from design to production and they only had a short time to get it done.
Solution
With the need to develop a new innovative drip irrigation product for mass production, RainDrip reached out to Blue Dolphins Design & Engineering team in order for them to get their new product, Simple Drip©, to market before the drip irrigation  season began. With Blue Dolphin's ability to 3D print in house, they were able make an iteration of RainDrip's product in a day and design, test, evaluate and redesign the prototype. It was critical for Blue Dolphin to finish the design on time because if the deadline for the selling season for drip irrigation was missed, the product introduction would have been delayed by a year. Simple Drip© was delivered on time, was patented and was sold nationwide in Lowes and Orchard Supply Hardware and is still on sale today.
Need a quote? Let's start the process! Fill out the form below.

Product
Solid State LED Fixtures
Problem
Liberty Park, near ground zero in New York City, was in need of Solid State LED Lighting because the current florescent lighting system had failed twice in the short time they had been installed.
Solution
In Liberty Park, there were 400 fluorescent light fixtures in the ground that had failed twice after only being installed for a short time. B-K Lighting was contracted to provide a new Solid State LED Light that would not need to be replaced as often as the fluorescent lighting. Blue Dolphin was chosen by B-K Lighting to undertake this project.  The new LED lights had to look like the old fluorescent style lights that were previously in the ground, which was the biggest hurdle to overcome. Blue Dolphin's ability to quickly and accurately produce a preproduction prototype of the new light left the Liberty Park representatives very happy with the design. However, they asked why Blue Dolphin did not make the new lighting Solid State LED Lighting like they had previously asked. CEO and owner of Blue Dolphin Designs, Mark Jackson, responded, "it is Solid State LED Lighting." The design was so close to the original fluorescent lighting that the Liberty Park representatives could not tell the difference. Since the new Solid State LED Lights have been installed (2009), they have not needed to be been replaced.
Need a quote? Let's start the process! Fill out the form below.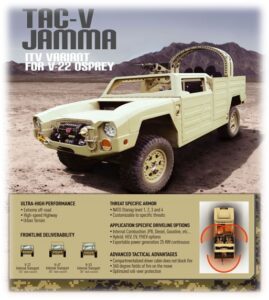 Product
J.A.M.M.A. (Joint All-terrain Modular Mobility Asset) V-22 ITV
Problem
The United States Air Force needed an armor system designed for their unit that could easily be installed and removed when necessary and stay within space allowances.
Solution
The United States Air Force approached Light Racing to design the J.A.M.M.A. system. They wanted to solve their issue of being able to easily install and remove additional armor; and design a roll bar system for The Flyer Gen ll ITV ground unit that is transported by the V-22 Osprey. Light Racing came to Blue Dolphin wanting to take their design from concept to a working, production ready unit.  Blue Dolphin's design team created an innovative  "BEAR TRAP" collapsible Roll Bar design.  CNC machining was implemented to create the prototypes, as the units had to be as close to the actual production version as possible, and check functionality as well as weight elements, which were extremely crucial for the final design. The J.A.M.M.A. V-22 ITV was finished and fit within the close space requirements in order to accommodate transport aboard the V-22 Osprey. Blue Dolphin heled Light Racing successfully finish the J.A.M.M.A. project and  turn it over to Force Protection for production.
Need a quote? Let's start the process! Fill out the form below.

Product
Suspension for Pulse Power Wheelchair
Problem
Sunrise Medical needed a new suspension system for the Pulse Power Wheelchair.
Solution
Sunrise Medical is the second largest durable medical equipment manufacturer and distributor in the world, and was in need of a new suspension system for the Pulse Power Wheelchair. When Blue Dolphin received the design specifications from Sunrise Medical, their design and engineering team immediately noticed that the suspension system was far more complex than usual. Blue Dolphin developed a new and innovative design which was simple, elegant and effective in it's solution. The suspension was also less expensive to manufacture and worked far better than the original design that was given by Sunrise Medical. After several iterations of prototypes, the design was finished and the Pulse Power Wheelchair was released to market at a better price; plus the overall functionality of the wheelchair was superior than the original designed. Furthermore, Mark Jackson, President of Blue Dolphin Designs, was awarded a U.S. patent for the industrial concept used to design the suspension wheelchair. The Pulse Power Wheelchair is still in production using the same suspensions system Blue Dolphin originally designed and manufactured.
Need a quote? Let's start the process! Fill out the form below.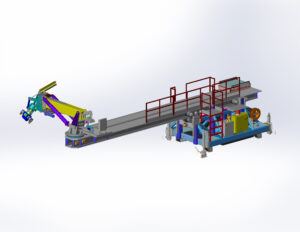 Product
Control by Wire
Problem
McClellan Industries needed to have a Control by Wire system developed to fit within the space perimeters on their automated hydraulic actuator system.
Solution
McClellan Industries had a serious situation when it came to their automated hydraulic actuator systems. The automated hydraulic actuator arms had extremely tight form factor restraint allowances for the classic all hydraulic control  components, and their new hydraulic actuator arm designs needed a new system designed to fit within those tight specifications. Blue Dolphin derived an  industry innovative Control-by-Wire solution to solve the problem.  They utilized finite element analysis and state-of-the-art CAD software to ensure the system would fit inside the hydraulic arms, and check for clearances that would allow the arms to operate without impediment. Blue Dolphin was able to accommodate the form factor restraints and at the same time revolutionize the industry by introducing Control by Wire systems.
Need a quote? Let's start the process! Fill out the form below.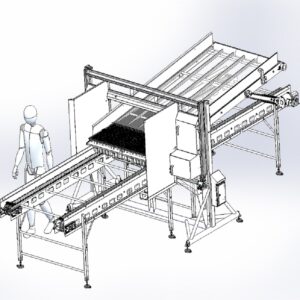 Product
Commercial Vertical Farming Harvester
Problem
Aerofarms needed an experienced engineering firm to design their Tray Harvesting Machine.
Solution
Aerofarms chose Blue dolphin Engineering to design the full scale Product Tray Harvesting Machine.  The design included creating a custom greens harvesting saw.  The hybrid harvester separated the greens product from the growing media sending the product and the growing tray to separate locations.
Need a quote? Let's start the process! Fill out the form below.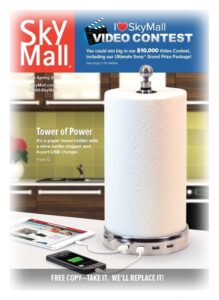 Product
TowlHub charging station for electronic devices
Problem
Dan Whitlatch had an idea for a paper towel holder that was also a charging station for electronic devices; he needed to have the entire idea from concept to production done.
Solution
Blue Dolphin Design & Engineering was able to help Dan Whitlatch conceptualize his product and create: virtual prototypes. 3D prototypes made with their 3D printers, a circuit board design, as well as implemented traditional fabrication methods to get his product ready for production. This also made it possible for Blue Dolphin and Dan Whitlatch to find out if the product had any flaws that needed to be addressed before mass production began. After several iterations, Towlhub was ready to be produced in mass quantities. Since TowlHub was being made for mass production, Blue Dolphin used injection molding as less expensive production method. Towlhub made its debut on the cover of Sky Mall Magazine and quickly became their number one selling item.
Need a quote? Let's start the process! Fill out the form below.